A program manager is a professional who acts as the overall coordinator of a specific project or group of projects within an organization, but what in particular do good program managers do that sets them apart?
Good program managers know how to manage their time effectively. They also understand the importance of being organized and prepared before starting any project. Good program managers are able to prioritize tasks and delegate responsibilities to others.
The best program managers are those who can wear many hats and be flexible in their approach. They are able to roll with the punches and adapt as needed. They are also able to establish trust and credibility with their team, and foster an environment of collaboration.
Ultimately, good program managers are able to get the job done right and on time, while maintaining a focus on the bigger picture.
The scope of responsibility for a program manager can vary considerably depending on the size and type of organization they work in.  In large organizations with multiple projects underway simultaneously, the program manager may only have oversight over one particular area, reporting back to a senior manager who is responsible for all programs across the business. 
In smaller enterprises they are more likely to be expected to take care of all aspects relating to their assigned program(s), being the single point of contact for all teams across the business.

To successfully deliver on their responsibilities and meet expectations, good program managers possess strong analytical skills so that they can quickly identify risks and issues early on; good communication abilities so that they keep all relevant parties updated throughout the duration of the project; experience leading teams since much of their work revolves around coordinating team members; lastly being well-organized helps ensure efficient progress towards meeting objectives.
What is a program manager?
A program manager is a professional who helps businesses plan, implement and monitor progress on specific projects or initiatives. They ensure that all aspects of the project are coordinated and completed on time, within budget and to the required standard.

Program managers typically have a background in project management and are familiar with the wider company.  They use their skills to resolve issues, identify risks and opportunities, create plans and drive results.
Good program managers possess strong leadership qualities and excellent communication skills.
For more information about program management see: What is Programme Management?
The role of a program manager within a business.
A program manager is responsible for the delivery of a specific program which usually contains multiple projects.
They work with senior management to create the objectives and then with stakeholders from various departments to ensure that the objectives are met.
In addition, they also develop budgets, track progress, and communicate updates back to senior management.  Updates often include a program plan, which is a document that outlines the objectives, strategies and timelines for a set of projects.
It's important to create a program plan because it helps keep stakeholders focused on the overall goal of the program and how it will impact their organization.  It rolls up each project plan into a concise summary so senior managers can track the overall program goals rather than getting caught up in specific project issues.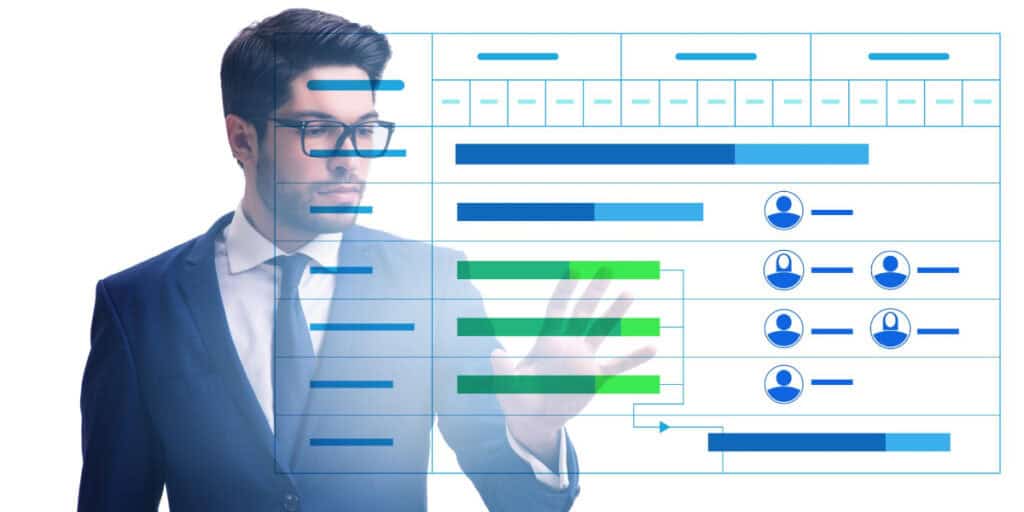 Additionally, a well-crafted program plan can help minimize risk by ensuring that all necessary resources are available when needed and that milestones are met on time.
In order to manage all of this correctly they need to have good knowledge and handling of project and program management methodology and techniques.
While they may hold a senior position, they are not necessarily senior to those they work with.  As they are required to work across multiple departments they have to be prepared to work with staff from all levels of the business. 
This can be especially tricky if they are relatively inexperienced or new to the company. They won't have built up the knowledge or reputation with existing staff members who may be dismissive of their work.
This is why they typically have at least some experience within the company, or have several years' experience of program management in a previous role.
The skills required to be a good program manager. 
The skills required to be a successful program manager are varied and can change depending on the type of program management being done.  Here are some of the key ones:

Leadership qualities. A good program manager is someone who has strong leadership skills and can take charge when needed. They must be able to set clear goals and objectives, motivate their team members, and get them on board with the project at hand.  The ability to be able to motivate people and help to keep them motivated is very important. 

Organizational skills. A good program manager needs excellent organizational skills in order to manage multiple projects effectively. They need to be able to keep track of all the details involved in any given project, from inception to completion, and make sure everything runs smoothly along the way, working closely with project teams and responding to any issues they or the project managers encounter.

Problem-solving abilities. As the programme manager responsible for overseeing a project's progress, they must be able to solve problems as they come up during execution (and sometimes before they even happen). Good problem-solving skills help identify and resolve issues as quickly as possible so that the project can move forward unscathed.
Critical Thinking. In order to manage a program properly it is important to have the ability to critically think. This means being able to look at a situation from all angles and to be able to come up with ideas to solve any problems. Often, problems are discovered when different parties have different views. Programs often revolve around different people and different opinions. The ability to listen to different views, challenge them, and forge united solutions to problems and disagreements is crucial.
Communication. Having good people skills and being able to communicate effectively is a huge part of program management. They need to be able to send out clear messages, which does not mean always agreeing with people but simply being able to communicate well. The program manager is responsible for making sure that all parties are kept up-to-date.
Project Management. One of the most important skills for a program manager is the ability to be able to plan a project. They must translate business objectives into one or more projects, working with project managers to put in place strategic goals, identify resources, and make sure that all goals and resources are monitored and reported on regularly to make sure that the project is completed within a certain time.
A positive attitude. A positive attitude is one of the most important things for a program manager. It is very important that a good program manager has a positive attitude. This positive attitude is infectious and rubs off on the rest of the team. They must be able to get people motivated and excited about the project.
As you can see, this isn't a position for a new starter fresh from education. The ideal candidates will have accrued years of experience to have developed this wide-ranging skill set.
Benefits of having a good program manager
Given the wide range of skills and experience required you won't be surprised to learn they're not a low-cost investment.
How much do program managers earn? There is no one-size-fits-all answer to this question, as the salary of a program manager will vary depending on their experience and skill set.
However, according to Indeed.com, the median base salary for a program manager in the United States is $66,172 per year and £48,305 per year in the United Kingdom.
Additionally, many employers offer bonuses and other benefits that can increase a program manager's annual earnings significantly.
So, with that in mind, what what are the benefits of having a good program manager? 
1. Increased efficiency and effectiveness: When all aspects of a program are properly managed, it can lead to increased efficiency and effectiveness within the organization. This is because programs that are properly managed will have clear goals and objectives, well-defined processes, and well-organized resources.
2. Improved communication and cooperation: A successful program will also promote better communication and cooperation among all members of the organization. This is because a well-run program will require everyone to work together towards a common organizational goal.

3. Increased morale and productivity: Finally, a successful program can also lead to increased morale and productivity within the organization. Key stakeholders are often selected from a range of different departments that may not always have a chance to work with each other.  By meeting at regular intervals, better communication and relationships form, allowing other issues aside from the project tasks to be addressed.
Conclusion
A good program manager is a person who is skilled at managing people, resources, and timelines. They help key stakeholders focus on the larger goals.
By rolling up information on individual projects into a more concise format senior managers can be more effective at planning, focusing on the bigger picture.
It's a demanding job, but one that can feel very rewarding when multiple project goals are delivered and the company sees a positive impact.