Small businesses are the backbone of any economy. They are the engines of job creation and growth. But in today's hypercompetitive marketplace, they face many challenges.

One challenge is that they often lack the resources of larger firms. Another is that they have to be nimble to compete effectively. And yet another is that their very survival depends on making smart decisions about how to allocate their limited resources.

Enter business program management (BPM).

BPM is a discipline that helps organizations optimize performance by aligning programs with strategic objectives, improving efficiency and effectiveness, and managing risks.
What is business program management?
Program management is a systematic process that helps organizations achieve their desired outcomes from business programs. It involves planning, executing, and monitoring program activities to ensure that they meet the organization's objectives.

Business program management (BPM) is becoming increasingly important for small businesses as they strive to remain competitive in today's market.
BPM provides a framework for managing multiple, interrelated projects and ensuring that they are completed on time, within budget, and to the required standards.

The role of program manager has traditionally been carried out by senior managers within an organization. However, with the increasing complexity of business programs, many small businesses are now turning to specialized BPM firms to help them deliver successful results.
In part this is down to what makes a good program manager. With such a wide skill set it isn't always possible to find the right candidate in house.
The benefits of business program management for small businesses.
Small businesses are the backbone of any economy and their success is essential for promoting growth. While there are many factors that contribute to a small business' success, effective program management is becoming increasingly recognized as an important element.

Program management provides a framework for setting goals, identifying risks and opportunities, designing and executing plans, monitoring progress, and making course corrections along the way. This holistic approach can help small businesses improve their chances of success by ensuring that all facets of the business work together towards common objectives.
There are many benefits that come with implementing an effective program management strategy within a small business. Perhaps most importantly, it can help to increase efficiency and optimize resources.
By definition, successful programs must be completed on time and within budget; this means that program managers must be experts and understand planning and resource allocation in order to meet these constraints.

Furthermore, good program management fosters improved communication among team members and between different departments within an organization.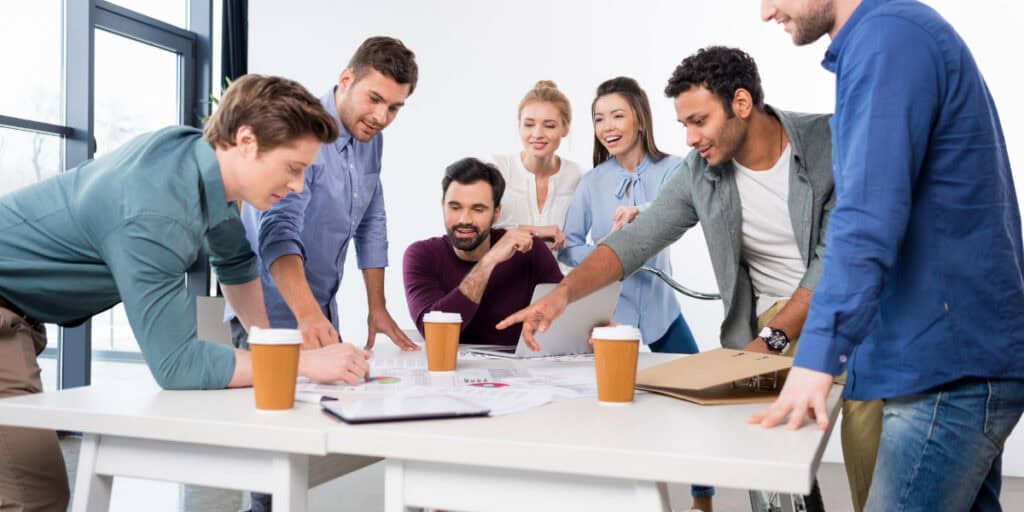 In order for a small business to function effectively, all employees need to be aware of company objectives and understand how their individual roles fit into the larger picture.
One of the most important benefits provided is clarity.  Clarity of the business priorities, clarity to all levels of the business regarding the direction of travel and clarity around changes.
Finally, perhaps one of the most valuable benefits of effective program management is its ability to promote innovation within an organization.
Businesses must constantly strive to find new ways to remain competitive in today's marketplace; program managers trigger creativity and out-of-the-box thinking by encouraging employees to rethink existing processes and procedures.
How business program management is becoming the backbone of small businesses.
Program management is becoming the backbone of small businesses because it provides a systematic approach to achieving organizational objectives. By aligning resources and activities, program management enables small businesses to optimize efficiency and effectiveness.

In addition, program management helps ensure that critical business goals are met by identifying risks and opportunities, tracking progress against milestones, and making course corrections as necessary. As small businesses increasingly come to rely on programs to achieve success, those with strong program management capabilities will be well-positioned for growth.
Imagine you've grown your business and things are looking up.  You have lots of ideas you want to implement, but you're still in the start-up mentality, you expect to be able to move quickly and launch products using just a spreadsheet for tracking.
However, with growth comes a slow-down.  Processes become more complicated and intertwined.  There are more staffing considerations to take into account, more interlinking systems to consider…everything is more complicated and takes longer.
If you continue with the small business approach of throwing out changes without any sort of control you're going to create issues around the business.  
By first introducing project management, and then program management, a small business can learn to stand tall and prepare for the next phase of growth.
How can small businesses implement business program management?  
Often smaller firms stumble into project and program management.  They naturally evolve into using informal methods, the business relies more on conversations and relationships between departments to get things done without any real driving force.
By understanding and utilizing key project management principles, small businesses can set themselves up for success. Here are the basic principles to get started:
Define your goals and objectives. Before you can start managing your business program, you need to first define what you want to achieve. What are your goals and objectives? Once you have a clear understanding of your goals, you can start putting together a plan to achieve them. This will help ensure that all stakeholders are on the same page and understand what they need to achieve in order for the program to succeed.
Develop an action plan. Based on the goals and objectives, create a plan that outlines how each component of the program will be implemented. This will help ensure that each step is properly planned and executed.
Put together a team of experts. To successfully manage a business program, you need to put together a team of experts. This team should include individuals with experience in project management or with experience in the business areas impacted.
Monitor and track progress. Be sure to include milestones and key performance indicators in the plan and track them throughout the program, so that any changes or adjustments can be made as needed. This will ensure that everything is moving forward as intended and on schedule.
If you are only just getting started with this approach you might want to consider hiring an expert.  This could be a direct employee or could be a consultant who will help put the required structure in place.
What are the benefits of an in house program manager?
Taking on a full time employee in the role of program manager can be a vital key to the long term success of any organization. They are responsible for managing all aspects of a program, from conception to execution. Here are some of the benefits:

1. In house program managers have direct access to all team members and resources necessary to successfully execute their programs. This means they can quickly identify and resolve any issues that may arise, ensuring a smooth transition for participants and minimal disruption to workflow.

2. In house program managers are intimately familiar with the goals and objectives of their programs, which gives them an advantage when setting priorities and making decisions about where resources should be allocated. This ensures that programs stay on track and achieve their intended outcomes as efficiently as possible.

3. By having full control over their programs, in house program managers can ensure that participants receive the best possible experience – no matter what stage they are at in their journey or how complicated the task at hand may be. This leads to greater engagement and retention rates, ultimately resulting in more successful outcomes for everyone involved.
The most obvious benefit is that the program manager is a full time employee and can be more intimately involved in the day-to-day operations of the program, ensuring that it meets all required standards and complies with company policy. This increased level of oversight can help to prevent any issues from arising and keep the program on track.
Additionally, a well-managed program will have a positive impact on overall productivity within the organization, as employees will be more focused and productive due to their clear goals and objectives.
Finally, an in house program manager is often able to develop better relationships with key stakeholders, which can lead to greater cooperation and collaboration when needed.
What are the benefits of hiring an external consultant program manager?  
Of course, it isn't always possible to have a full time employee take up this position, for example you may not have anyone in the business with the correct experience.
Rather than committing to a full time employee, it's possible to hire an external consultant to manage a program for you.  The benefits of hiring an external consultant program manager include:

1. Improved communication and coordination between different departments within the organization, which can lead to a more streamlined and efficient process.

2. The program manager can provide insight and expertise on specific areas that may be challenging for other departments, such as change management. This can help ensure that changes are made in a coordinated and effective manner.

3. Increased efficiency in the overall project timeline, as well as better implementation of key elements of the project plan.

4. More accurate measurement of progress and success, allowing for further adjustments or modifications to the project plan if necessary.
An outside consultant can provide a critical perspective on programs that may be missing or not aligning with organizational goals.
They have experience and knowledge in different areas of program management, which can help to streamline processes and better align resources.
As an 'outsider' they are neutral to all staff and can often provide guidance on how to improve communication between teams and manage stakeholder expectations.
Finally, their experience managing large projects can be valuable when scaling up or transitioning a program.  Pairing staff with an external consultant allows them to gain real world experience of program and project management, which in turn could lead to them being appointed as the in house program manager.
Final Thoughts
Small businesses are the driving force behind innovation and growth, but growth without a plan is messy and can spin out of control.
By introducing business program management these businesses can set themselves up for long term success and growth. It helps them to plan, execute, and track programs effectively.
This ensures that small businesses can achieve their goals and objectives efficiently and effectively.